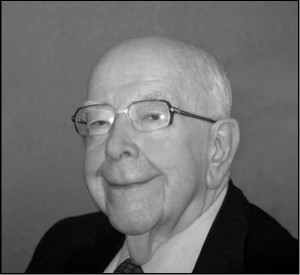 Eugene O'Hare of Derry was Ulster champion six times and played in three Olympiads, all in the 1960's, but he was still an active player long after that, winning a City of Derry Championship in 2004 at the ripe old age of 86. (I played in the same event as him at least once, in the 1979 Irish championship–and we finished in the same half of the field–but can't recall whether I ever played him.)
His memoirs, Roast Beef on Sunday, were published in 2008 and are a really excellent read, highly recommended. (I found the entire book on the web, but am not sure if this is an authorised copy. To be on the safe side I will omit a link; in any case you should be able to find it easily with any search engine.) He was a pharmacist by trade, and was also a councillor in Derry, serving on Londonderry Corporation from 1964 until its abolition in 1969, and his account of these turbulent times is well worth reading. (These memoirs deserve to be much better known.)
Though there are no actual games, there is also much discussion of chess. Here is one excerpt, set after the 1962 Varna Olympiad, which the team (John B. Reid, Ray Cassidy, P. J. Murphy, Des De Loughrey, and O'Hare) had reached by car:
We left the Olympiad without waiting for the final banquet and started out at 10pm to drive through the night. We crossed the border early afternoon the following day and reached Belgrade around tea time. European games were being held there and accommodation was extremely hard to find. We drove away from the town centre and stopped in a tree-lined square in the suburbs. Here we formed three parties to search for somewhere to stay. I went with Cassidy, Reid with De Loughrey, and Murphy went on his own. I drew blank, Reid drew blank, but Murphy came back waving his arms.

"I've got us digs," he shouted, "round this way."

We followed him and around the corner stood a lovely fair haired girl of about twenty five, smartly dressed but not obviously a hotel clerk. Poor innocent family man P. J. Murphy from Dublin was not a man of the world. The girl's face was a study, P. J., by sign language, had indicated five. She took a rather different meaning of the figure, and her look as she surveyed the five of us could not be described. We burst out laughing and she caught on and joined in. The only one bewildered was Murphy. In halting German and English I did my best to explain. She nodded and in a few minutes had got us bed and breakfast nearby.
A biography has been added on the Players section.