Time for another game, and here's one from the games page on Cork C.C.'s web site. It's a dramatic one, involving everyone's favourite theme, the king hunt. Strangely it wasn't included in the ICJ report on the event and it doesn't appear in the ICU games archive (or in any other database, as far as I know).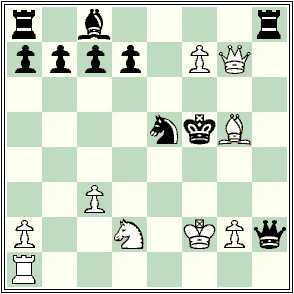 Orison Carlile – Stephen Short
Cork Congress (Masters) 2007
Round 1, 30 March 2007
The diagrammed position is after Black's 24 … Ne5. Black's king on f5 has already moved eight times and still has miles to go: he ends up on a3.
And the game also ends in an elegant mate.
Enough hints! This is a good game to test your analysis skills: there aren't any obvious oversights or blunders (apart from one right at the very end), and though the engines point out many improvements for both sides, I wouldn't call any of these obvious by any means.