The 22nd World Senior Championships are currently in progress in Kamena Vourla, Greece. Ireland is represented by Pete Morriss of Galway, who is having an excellent tournament so far. He's currently on 5/8, with a tournament performance of 2236, about 250 points higher than his current rating. He's also on 1½/3 against titled players, including an FM scalp. All the games are available on the excellent tournament web site, and Pete's games so far are available in the archive here.
Here's an elegant finish from his round 6 game, against Boris Blaushtain (Israel), rated 2092.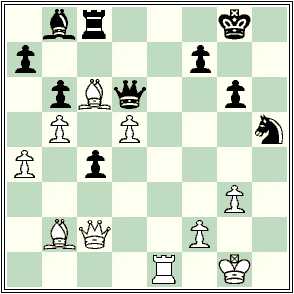 Pete Morriss–Boris Blaushtain
22nd World Senior Ch, Kamena Vourla (6)
18 November 2012
28. Re6! fxe6
After 28. … Qf8 29. Rxg6+ fxg6 30. Qxg6+ Ng7 31. Bxg7 Qxg7 32. Qe6+ White emerges two pawns up.
29. Qxg6+ Kf8 30. dxe6 Qd1+ 31. Kg2 Ke7 32. Ba3+ Kd8 33. Qe8+
1-0.