TWIC 963 had 23 games from the Cork Masters 2013, now all posted in the games archive.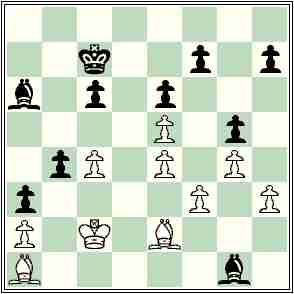 In the second round, local player and newly minted Irish U-19 champion Hugh Doyle was up against Alexander Baburin, and reached the following position, as White, to play. He went wrong with 31. Kd3? Kb6 32. Bd4+? and lost quickly after 32. … Bxd4 33. Kxd4 c5+ 34. Kd3 b3! 0-1.
In retrospect he probably wished he had tried 31. Kb3!? from the diagrammed position, with a view to blocking the entire position and preventing Black from infiltrating. What is your evaluation of the resulting position?
Answer (or at least my answer) in a few days.