The Simuls page has a list of the illustrious visitors to Ireland down the years: these include Steinitz, Capablanca, Alekhine, Euwe, Smyslov, and Topalov, all world champions at one time or other. But only one of these was the reigning world champion during the visit. Alekhine gave three simuls in September 1938: in Dublin (Regent House, Trinity) on the 14th and 15h, and Belfast (Clarence Place) on the 17th.
The results were +31 =3 -1 and +28 =7 -0, respectively, in Dublin, and a clean +34 =0 -0 sweep in Belfast. Thus he lost only one game, versus Charles J. Barry (Sackville). Barry won the Leinster championship seven times, including the first three championships in 1912-14, as well as at least two Armstrong cups with Sackville (probably many more). He was never Irish champion: the closest he got was =2nd in 1940, ½ point behind O'Hanlon.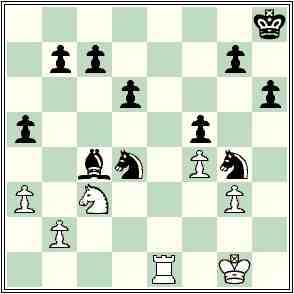 It seems only two games from the entire visit survived (neither one in the ICU games archive, surprisingly), of which the only complete one is Barry's win. Alekhine blundered in the opening (16. Bg8?) and it all went downhill from there. From the diagram the finish was 29. Re7 Ne6 30. Rf7? Nf6 31. Re7 Kg8 0-1.
[Click to replay the full game.]
There's more to the story: at the end of the game, Barry asked Alekhine to sign his scoresheet, but Alekhine waved him away angrily and refused. Barry can't have liked that, but what can you do? When "My Best Games of Chess 1924-1937" came out, Barry pasted the scoresheet onto the inside front cover and wrote across the top "Here's one that wasn't so good." (Source: J.J. Walsh.)