Last week saw a welcome return of John Watson's series of book reviews at The Week in Chess, after an extended break. And the very first book up for review is none other than Tim Harding's Eminent Victorian Chess Players, mentioned here previously and listed on the Bibliography page.
And an excellent review it is too! This is particularly notable as in the past Watson hasn't been a particular fan of chess history, but he liked this one: "surely this is one of the best and most accessible pieces of chess history ever written."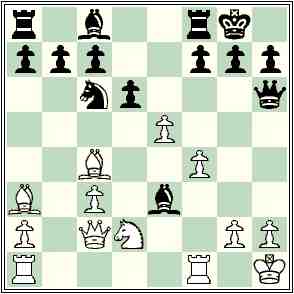 One of the ten masters considered is Zukertort, whose visit to Ireland in 1879 was previously the subject of some of Tim's research: see for example the Zukertort pages at ChessMail.com. He gave two major blindfold simuls. In the second, in Earlsfort Terrace ice skating rink on 7th March 1879, he reached the position at right against George Soffe, later Irish champion from 1889 to 1892 (based on his win in the 1889 championship), after Soffe's 14. … Be3.
Zukertort went wrong with 15. g3?, and after 15. … Bh3 16. Rf3 Bxd2 17. Qxd2 Nxe5 was already lost. [Click to replay the full game.]
Easy enough to miss when you're playing ten blindfold games simultaneously, of course. After the much better 15. exd6 Black's better but White's still very much in the game. Monck gave this as one improvement in his column in Our School Times, 10 May 1879, but his follow-up analysis leaves something to be desired: 15. … Bxf4 16. dxc7 Bxd2 17. Bxf8 Kxf8 18. Rxf7+ Ke8 19. Qe4+ and White wins. But what's wrong with 16. … Qxh2 mate.? White must try 16. Rxf4 instead, when he's doing relatively well, so Black is better advised to recapture with 15. … cxd6 instead.