The Drogheda June Congress is on this weekend. This competition has a unique structure of 6-player all-play-alls and a long history: this is the 24th of the series in Drogheda, in an unbroken sequence from 1990, and it had previously run from 1971 to 1988 in Wexford while the organiser Andrew Thomson lived there.
David McAlister has compiled lists of winners down the years on his Irish Chess History web site: see the Drogheda and Wexford web pages. Unfortunately very few games are available: I have five from the 1974 event that I'll upload soon.
In the meantime here's a photo from the 1972 event, just the second in the series. This is from the Drogheda C.C. web site ("History of the June Congress", 7 July 2011): see the comments there for discussion of who everyone is. I must admit I had exactly the same first impression as Seán Terry: the moustached fellow second from right in the front row is exactly how I remember Paul Wallace; but apparently it's not him?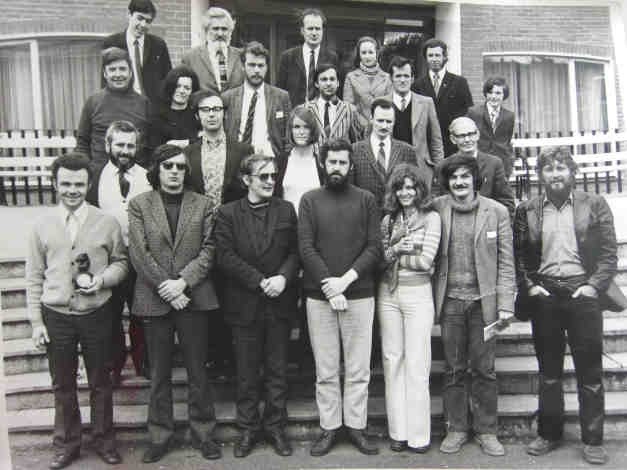 Can anyone help with the remaining identifications?
Update, June 5, 2013: David McAlister provides significant new information (see the comments). With this, it seems we can update the identifications (new information in bold):
Front row: Mick Keeshan, Michael Littleton, Art Coldrick, Maurice Kennefick, unknown, Alexander Münninghoff (Netherlands), (T.? or Alar?) Alan Puhm (Canada).
Second row: Gerry Murtagh, Brendan Ryan, Dorren O'Siochru, Andrew Thomson, Bill Ross.
Third row: Peter Kelly, Aileen Noonan, Jim Hackett or A. Johnston (Dublin), Hussain Baher, A. Johnston (Dublin) or Jim Hackett, Paul Wallace.
Back row: Michael O'Briain, Richard Dale, TBA Seán O'Donnell, Elaine Foley, Tony O'Byrne.
(Update, June 18, 2013: Tony Bent fills in another piece of the puzzle (see comments) by identifying Seán O'Donnell of Portlaw, Co. Waterford. (Added to the list above.))
(Update, September 21, 2013: Dan Scoones adds a correction (see comments): it's Alan Puhm.)
Here's the cover of the Euwe biography (later, translated version), and the 1977 photo of Alexander Münninghoff (see David's comment). I'm convinced!