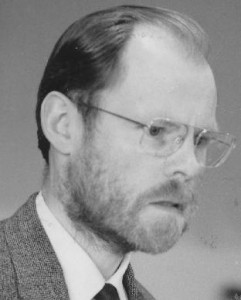 As mentioned previously, there appear to be very few games available from the Wexford/Drogheda June Congresses. If any reader has any they can send in, please do so! The only games I'm aware of are the five games of Bernard Cafferty (pictured left), from the 1974 event, the 4th in the overall series and two years after the photo in the last post. They're taken from a collection of 1,403 of his games on John Saunders' site BritBase (British chess games archive).
In the first round he faced a very young (not quite 15) Paul Wallace, and as White reached the diagrammed position. It looks overwhelming but how does White break through?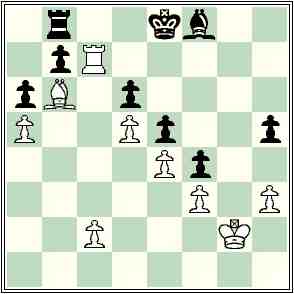 Cafferty tried 36. Ba7 Rd8 37. Rxb7 Rc8 38. Rb8 but after 38. … Rxb8 39. Bxb8 there was no way through and after a further 27 moves Cafferty was forced to conceded the draw. Also bad is 36. Rh7? Rc8, so he had to try something like 36. c4 followed by bringing the king over to the Q-side, when he must be winning. [Click to play through the full game.]
Final scores: 1. Bernard Cafferty 3½/5; 2. S. Galligan 3; 3.-4. Joe Noone, P. O'Briain 2½; 5. Paul Wallace 2; 6. Michael O'Briain 1½. (Note that the last two appear in the photo of the 1972 event.)
I see from the report on this year's event on the Drogheda C.C. web site that Paul Wallace played yet again this year, finishing second on 3½/5. Per the records on David McAlister's Irish Chess History site, he played six times in Wexford and another three times in Drogheda, finishing first in 1977 and 1999, and equal first last year.