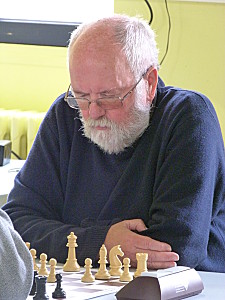 In putting together a post on a different topic, I found an article indicating that Gerry McCurdy, who was a strong player in Ireland in the '60's, before emigrating to France, has returned to the game.
There's an article on the Cahors Echecs blog on his win in last year's "Championnat du Lot" (Mid-Pyrenees). There are several photographs in the article, none with labels, but it seems from context that the picture here must be him. (Please correct me if I'm wrong.)
Here's my translation of the relevant passage from the article:
Gerry McCurdy of Prayssac, already in the lead after day 1, didn't weaken and won with 4½/5. We can't wait to see his first official FIDE rating! He has just returned to competition and shows that he still knows how to push wood as in former times: http://www.365chess.com/players/Gerald_McCurdy.
Well done, because I know from personal experience that it's not easy at all to get back to a reasonable level after such a long break.
He was first reserve on the Irish Olympiad team, Lugano 1968, scoring 5½/13 (+2 =7 -4), and played on various boards in the Irish team for the European Team Championship preliminaries, Copenhagen 1967, and also represented Ireland in the Student Olympiads of Örebro1966, Harrachov 1967, and Dresden 1969. His best result in an Irish championship was =3rd in the 1966 championship in Belfast on 5½/8, a point behind Moles. He was first in the Belfast Feis, 1966, and played in Castlebar 1969.