Anticipation is building for the Irish Championship, to be held at the University of Limerick from July 6-14. It's the centenary of the Irish championship as organised by the Irish Chess Union, and is shaping up to be an excellent event.
An impassioned debate has broken out in several places, such as the new Irish Chess Cogitations site, the newly-invigorated boards.ie Chess pages, and Rory Quinn's Ennis C.C. blog, over the restriction this year to IRL-registered players only, whereas all championships from 2007–2012 were open, with the highest-placed Irish players receiving the title of Irish champion.
This debate is not new, and indeed goes back to the era before the ICU. Here's the discussion from the first issue of the magazine The Chess Amateur, which was based in Gloucestershire: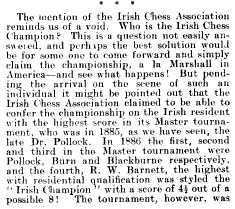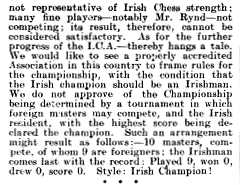 If I understand correctly, the description of the 1885 event is not accurate: it's doubtful whether this was an Irish championship and Pollock wasn't a resident around then anyway. (David McAlister is an expert on this era and can correct me if I'm wrong here.) The description of the 1886 event is accurate: (later Sir) Richard Whieldon Barnett, 1863-1929, finished fourth in the 2nd Irish Chess Association Congress in Belfast, 1886, after Pollock, Blackburne, and Burn, and thereby became Irish champion. This was definitely an Irish championship and the rules were clear, but–as the discussion above shows–the topic of closed vs. open format was a hotly disputed matter even then.
(While The Chess Amateur also seems dismissive of the win on the basis that many of the strongest eligible Irish players didn't compete, this is too harsh a standard: we'd have to dismiss most Irish championships if we took that as the standard.)