Though there's a lull in activity at a senior level in the summer, it's the time when junior chess hits high gear. So many events are scheduled that it's hard to keep up with them all.
The Glorney Cup events were held in Wales late last month, and resulted in an historic win for the Irish team in the Bernadette Stokes Cup (U12). Congratulations to the team: Pádraig Hughes, Ross Beatty, Tom O'Gorman, Michael Higgins, Fiachra Scallan, David Halpenny. I haven't seen any games from this event, though. The live boards covered the Glorney Cup (see the games archive for Irish games) and the Glibert Cup (not yet in the archive). See Pat Fitzsimons' report on the ICU web site.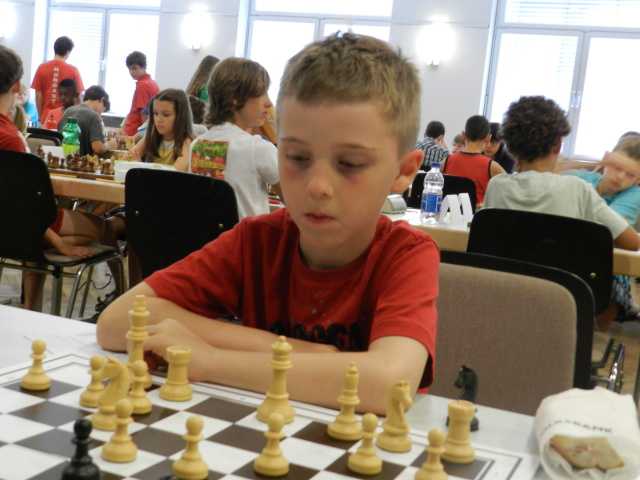 Later the European Union Youth Chess Championships were held in Mureck, Austria. (Not to be confused with the European Youth Chess Championships, to be held in Montenegro in September/October; it's hard to keep track.) The Irish players were Diana Mirza (St. Michael's & Adare C.C.s), Tom O'Gorman (Shankill), and the Irish U8 champion Danny Dwyer (Blanchardstown), pictured here (from the tournament web site). Diana Mirza recorded a major success, winning a Gold Medal in the U13 event for best girl, finishing joint second overall. Tom O'Gorman finished 6th in the U11 event and Danny Dwyer finished 11th in the U9 event. (See Rory Quinn's blog.)
The organisers did a tremendous job in making games available, and all the Irish games are now available in the archive.
Update, 24th August 2013: all the Irish Gilbert Cup games (except one) have now been added to the archive. The exception is a game containing an illegal move, which complicates the processing quite a bit. In addition, 19 games from the Irish Championship AM Tournament (1st: John Hughes) have been added.
Update, 30th August 2013: the final Gilbert Cup game, Petrie-Ní Mhuireagáin, Scotland-Ireland (2), has now been added, complete with illegal move.