A total of 52 games have been added to the archive this month: the full monthly list is available, as usual, by entering "-month2013-09" in the search box.
This month sees the return to the game of another veteran, Brian MacRéamoinn. He was a team-mate of mine at Dundrum for several years, including our 1985 Armstrong Cup win, the only time Dundrum won the Armstrong. He also played later that year in the European Club Cup match against MTK Budapest, discussed here last year. I think he hadn't played for years, but this month's collection has a dozen of his games. Though he seems a bit rusty, very understandably, he hasn't lost his enterprising and entertaining style: he has never been one for boring chess.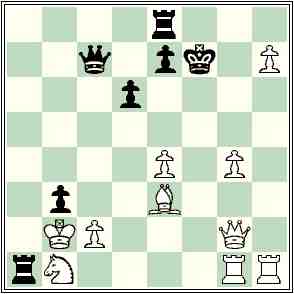 One representative example is Bartlett-MacRéamoinn, Paignton Premier 2013, with Black to move, having just sacrificed two pieces in successive moves (knight on g4 and bishop on b2). After 26. … Ra2+ 27. Kc1 Rxc2+ 28. Kd1 Rxg2 29. Rxg2, Brian went wrong with 29. … Rh8? and lost; instead 29. … Qc4 would leave him very much in the game.
P.S. I have games from six people (for which thanks) that I have not had a chance to process and add to the archives yet. Apologies: in some cases I have been planning separate posts on the games, requiring some extra time.