From a player profile on David McAlister's Ulster Chess History website, citing the Weekly Northern Whig, 11 June 1914:
An Eminent Belfast Chess Player

Among the foremost British chess players of the sixties was Francis Burden, who was born in Belfast in 1830, and who died there on January 13th, 1882, the same day as his intimate friend the renowned Stanley Boden.

By profession Burden was a civil engineer, and in that capacity in 1870 went to Venezuela. Where he contracted malaria, which rendered him an invalid for the remainder of his days, and which necessitated his retirement from public chess. Burden was a dashing and brilliant player, and in the halycon days of Simpson's Divan was certain to draw a galllery. He played all and sundry for nothing, and among his various opponents were Buckle, Boden, Wormald and Harrwitz. Wherever burden was there was fun. A good problem would be brought out and whoever touched a piece without having found a solution was fined a cigar all round. The man who paid the most forfeits and with the worst grace was Henry Jessel, brother of the Master of the Rolls. Burden taught de Vere chess. De Vere was sometime chess editor of the "Field" but consumption and an ill-considered life ended a brilliant chess career at the age of 30.

Burden was a man of many parts. He was a strong whist player with eccentric notions as to original leads. At billiards he was, for an amateur, fairly expert. Besides these recreations he was a chemist, a mathematician, and a scholar of no mean repute. His great handicap was his lack of health.
This is the player referred to in the puzzle from a few days ago. He was thus one of the foremost British players of the eighteen sixties.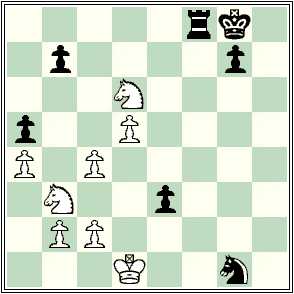 The same page goes on to give his win over Steinitz, at Mr. Rie's Chess Divan in the Strand in July 1862, which appeared in The Field and the Weekly Northen Whig a few days later: see diagram for the final position. [Click to replay (in IRLchess format)]. The Weekly Northern Whig comments on Burden's opponent: "Herr Steinitz is a new player to us in England, and promises to become a great one". Indeed!
The game wasn't played in any tournament, so you may ask whether it really counts? Surely it must: whether a game is a serious one must depend on the conditions of the day, and in an era when tournaments and matches were very rare, games played at the various divans were taken seriously by the players and the wider chess world. If we're to count only tournament or match wins, we may as well insist on rated games as well, ruling out everything before 1970 or so.
Note: post modified (Sunday, October 13, 2013)–quoted text reformatted for clarity. The paragraph breaks are not in the original.