Many thanks to Martin Crichton for supplying his game against Gavin Wall in the last round of the 2005 Leinster championship (not available anywhere else).
This must have been one of the strongest Leinster championships ever, with 8 of the 15 competitors rated over 2200, including Alexander Baburin and Gawain Jones. Gavin Wall had started well with 3½/4, only conceding a draw to Gawain Jones. He lost the crucial round 5 game against Baburin, also on 3½/4, though, setting the stage for a last-round game against bottom seed Martin Crichton.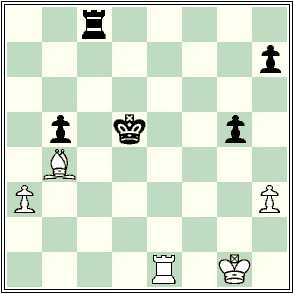 It was, as Martin puts it, a topsy-turvy game. After a significant amount of pressing Wall managed to win a pawn, though there were so few pawns left on the board it was going to be hard to convert to a win. The disastrous 46. … Rc1?? blundered a piece. Wall must have spotted immediately what he had done, as he offered a draw .
The diagrammed position was reached after 49. Rxe1. And now, is this a win for White with best play? Martin thinks so, but I'm not so sure. It's a bishop of the wrong colour for the a-pawn, so if Black manages to exchange White's h-pawn, he need only put his rook on c4 and he must have enough to draw.
In fact both players were increasingly short of time–there was no increment–and after several more twists and turns all pawns were finally eliminated, getting down to the theoretically drawn ending of R+B v. R. This is not always easy to show in practice, though, and in addition both players were down to 90 seconds or so. This was the last game to finish everyone else was crowded around the board, adding to the pressure. Wall indeed went wrong, but 71. Bc5? let him off the hook. As it was, he was down to 12 seconds on the clock and missed the chance with 71. … Ra1? and had to resign after 72. Rb8. But as late as this last move he could have drawn. How?