The Gonzaga Classic was held two weeks ago, a little earlier than usual. In the Masters, David Fitzsimons had a 200+ point rating advantage over the field and had won the event for the four previous years. Once again in Irish sport, however, 5-in-a-row was a bridge too far, and this time victory went instead to Killian Delaney.
The organisers deserve great credit for making the games available: Herbert Scarry's report on the ICU web site has 49 of the 50 games. A full tournament report has now been posted here.
There were several interesting games, in particular John Healy's win as Black against Conor O'Donnell in round 1 and the marathon Janusaitis-Nikrow game in round 3, as well as Scott Mulligan's shock win against Fitzsimons in round 1.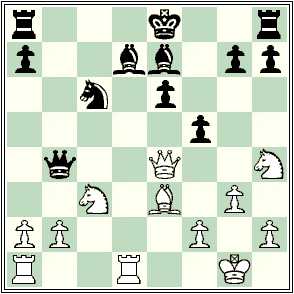 The most interesting of all was the deciding last-round game between Killian Delaney and David Fitzsimons. Delaney, playing White, was a full point ahead and needed only to draw. In the diagrammed position he uncorked the amazing 21. Nxf5 ?!!?. I did not understand the thinking behind this move so finally resorted to Houdini 3.0, which finds itself baffled also. After 21. … exf5 22. Qf3 Qg4? (22. … Rd8 and Black must be close to winning) 23. Qd5 Rd8 24. Bc5 f4? (24. … Bxc5 with complications) 25. Re1 fxg3 26. hxg3 Qf5 27. Bxe7! the players agreed a draw. After 27. … Nxe7 28. Re5 Qf7 29. Rae1 White recovers the piece and emerges a pawn up, e.g. 29. … 0-0 30. Rxe7 Qxd5 31. Nxd5 with good winning chances.
[Update, February 12, 2014: the first posted version of the tournament report had some glitches, spotted by the eagle-eyed David McAlister. The most serious was the entire omission of the game Aherne-Murray from round 4, which caused knock-on effects throughout. Another glitch was caused by a discrepancy between the ICU ratings report and the actual results: David Murray was initially defaulted in round 1 in error, and that's how it is still shown in the ratings report, but in fact he received a ½-point bye, as again confirmed by David McAlister after checking with Herbert Scarry; this affected the prize list as Murray finished clear second on 4½/6.]