The Armstrong Cup page has been updated with details of the 1976-77 season. In a close finish U.C.D. retained the cup, fighting off the challenge of Portmarnock, Dublin A, and Collegians. The winning team consisted of Bernard Kernan, Oisín McGuinness, Paul Wallace, Conor Barrington, J. Bradley, M. O'Donnell, Ciarán O'Hare, B. Redmond, D. Denny, and C. McGuinness (from two scorecards).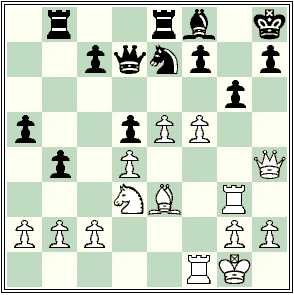 No games from this season are in the ICU games archive, but here's one from J.J. Walsh's scorebook, where he has White against U.C.D.'s board 2 Oisín McGuinness. McGuinness struggled in the opening and was already lost around move 11. The diagrammed position is with White to move. The finish was 24. e6 fxe6 25. Ne5 Qc8 26. fxg6 1-0, though there must be many other ways of winning also. [Click to replay the full game.]
Oddly, this is the first game of J.J. Walsh's in the games archive here.
[Update, February 24, 2014: David McAlister has provided two more Irish Times articles that I didn't have (October 14, 1976 and February 11, 1977), with the results of three more matches, for which thanks.]