Tim Harding has recently written an extensive article (see part 1 and part 2) on the almost forgotten Vizayanagaram Tournament, sponsored by the Maharaja of Vizayanagaram and held in conjunction with the London International Tournament in 1883.
One Irish player participated: the Rev. George Alcock MacDonnell, born in Dublin in 1830, a strong player of the day. Indeed according to Tim's article his inclusion was controversial, on the grounds that he was too strong.
In the event he was in mixed form and, though the crosstable below doesn't show it clearly, he finished third behind Curt von Bardeleben and Bernard Fisher.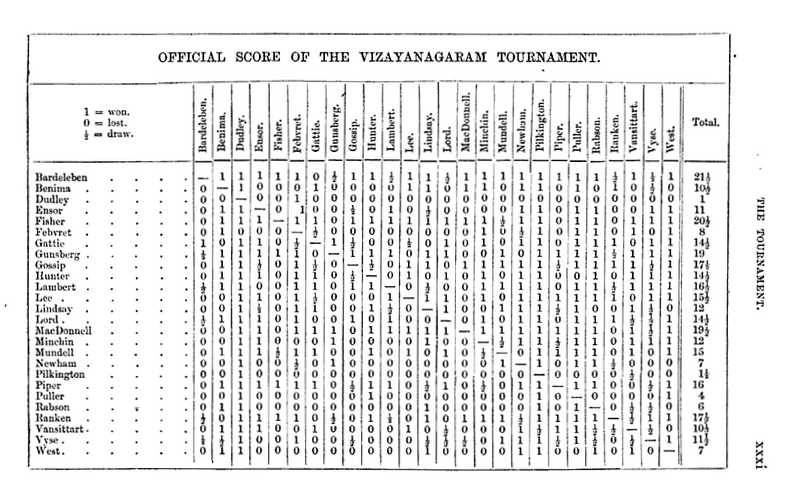 The tournament book, Games played in the London International Chess Tournament, 1883 (J. I. Minchin, ed.) (available on Google Books), concentrated on the main event and includes only a minority of the games in the Vizayanagaram event. The book includes seven of MacDonnell's games, and these are the same ones included in the ICU games archive. It's a remarkable fact that new games can be uncovered all these years later, and Tim has found four more: the games against Dudley, Puller, and West, from various issues of MacDonnell's column in the Illustrated Sporting and Dramatic News, and the game against Ranken, annotated by W. N. Potter in Land and Water.
All eleven games have been added to the archive here. Notes have been removed but collected annotations can be found for these, and all other known games from the tournament, in Tim's article, part 2.