Early this year I heard the sad news of the very untimely passing of Ivan Gormally. He was a clubmate of mine from our very earliest days at Dundrum C.C. and would have been a couple of years older than me.
He was one of the Dundrum team that played MTK Budapest in the European Club Championship in 1985, as previously recounted here. Dundrum had qualified by winning the Armstrong Cup in 1984-85, for the first and only time, but I couldn't recall whether Ivan had played on the Armstrong team. And that particular season is one of the most mysterious of all Armstrong seasons, with essentially no records previously available. Furthermore the ICU games archive had none of his games.
During my last trip to Dublin, however, I visited John Gibson, who turns out to have a treasure trove of records. One item is the complete set of player records from the 1984-85 Armstrong season. From this it is clear not only that Ivan played, he was a key factor in Dundrum's victory, with a score of 7/9, mostly on board 8:
As for games, one fortuitously showed up. Oliver Dunne showed me the tournament booklet for the 1981 Irish championship. At the back there are selected games from the supporting events, including the decisive last round game in the Irish intermediate championship (1500-1900), annotated by the winner of the game and the event.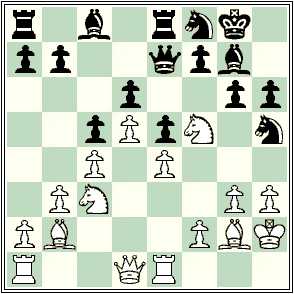 Ivan was White against Ann Delaney, and in response to 15 … Qc7-e7? he has just played 16. Nh4-f5. After 16. … gxf5 17. Qxh5 Qg5 18. Qxg5 hxg5 19. exf5 Bxf5 20. Ne4 Black had either to lose a pawn or make the concession 20. … Bxe4 21. Bxe4 when Black has no counterplay and suffers major weaknesses on the light squares. Ivan managed to convert his advantage without further problems. [Click to replay the full game.] Final scores: 1. Ivan Gormally; 2-4. "Dillon, Hassan, Thomson" [no first names given; probably Andrew Thomson?] 5/6; 69 played.