The latest issue of The New Winawer Report has now been posted.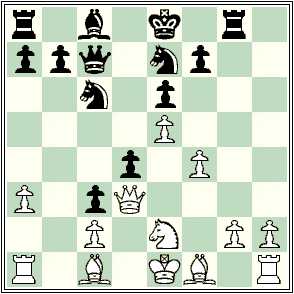 This one concerns the new main line of the Poisoned Pawn, where Black plays … dxc3 instead of … Bd7, and follows with 12. … d4 (diagram). Theory knew of this as far back as 1957, based on the game Kots-Ilivitsky, USSR Championship ½-final, Sverdlovsk 1957, but it did not catch on. But why not? It's easy to dismiss such anomalies with a shrug and a comment on "the vagaries of fashion", but I argue it's worth making a more searching enquiry about what was missed earlier and why.
Apart from such speculations, the issue has a new game that's missing from all the databases, as far as I can tell, but that pre-dates all known games in this line. It's even quite a nice win for Black. See Procter-Knibbs, Postal Chess Club All-play-all 1E, 1949.