A full report on last September's City of Dublin Masters (1st Juri Firstov, for the second consecutive year, though not without a little controversy) has been added to the Tournaments page. Though the turnout was on the small side (14 players), the chess was eventful and interesting. Indeed, of the 33 games available (all but one of those played), the "Interesting Games" selection in the report includes 12, an unusually high ratio.
(The "Interesting Games" are admittedly selected rather arbitrarily and superficially, based on a quick play-through. Still, first impressions can often be accurate: see for yourself.)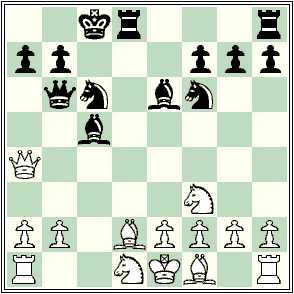 The diagram is from the game Oisín Benson—Killian Delaney from round 2, with Black to play. Black proceeded with a spectacular series of moves that ripped White apart. How?
[Click to replay the full game.]
Thanks are due to Pat Fitzsimons and Herbert Scarry for making almost all the games available, and very promptly too.