The news that an Irish team is currently competing at the World Youth Under 16 Chess Olympiad in Győr brought back memories: I was on the Irish team that participated in the first World U-16 team championship, far back in 1979. Though that event is grouped by Olimpbase with the later Under 16 Olympiads, the connection seems to be in name only, and the original event was a once-off.
The event was held in Viborg, Denmark, a smallish town on the Jutland Peninsula, from October 14-20, 1979. The Irish team in board order was myself (Dundrum), John Kennedy (Fisherwick), Cliff O'Connor (Kevin Barry), Suzanne Connolly (Malahide), and Tim Broome (Belfast), with Tom O'Sullivan as manager.
The event had long since been almost entirely forgotten, and all games lost, until a couple of years ago I was searching online and found a mention of the event by Jesper Nørgaard, who had played top board for Denmark B: he's now an FM living in Mexico. I emailed him asking if he had any records, and was delighted to receive back the full set of 224 games, compiled by him from the tournament booklet (my own copy of which is long gone). There's now a full tournament report at OlimpBase. For here I'll just note that the event was won by England, whose top three boards were Nigel Short, Julian Hodgson, and Danny King—not bad!
In those days FIDE had a 2200 floor on ratings, so very few players in the entire event had FIDE ratings, and none of the Irish team. I recall I was a little over 2000 in the ICU list (2043?), John Kennedy was a bit over 2000, Cliff O'Connor 1900+, and Suzanne Connolly 17-1800.
In the event we finished 11th out of 16 teams, with scores myself 3/7, John Kennedy 4/7, Cliff O'Connor 0/4, Suzanne Connolly 2½/5, and Tim Broome 3/5.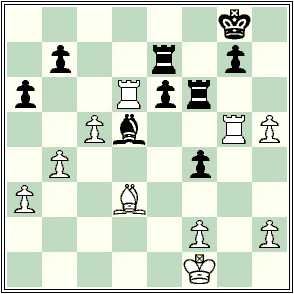 I've uploaded all Irish games to the archive here. I didn't realise until playing through them that John Kennedy could have finished on 7/7: he had a winning or near-winning position in every game. Here's one example, from the last-round match against (now FM) Mikko Kivistö of Finland. Kennedy, White to play his 39th, could probably make progress by bringing his king around to e5, but instead found a neat way to tie Black down further first. How?