On Ray Woodhouse's photo of the Ballyfermot Open 1994, we're a little further along but matters are still not entirely clear.
David McAlister convincingly demonstrated that it was the 1994 event, the position on the top board identifying it as from Ryan—Baburin (see his comment on the last post). But the Irish Chess Journal report didn't identify the round, and others I asked weren't sure. If it's from the last round, then Black on board 2 must be Russell P. White of England, who finished joint first.
There is some extra information pointing to it being the last round. Jonathan O'Connor kindly provided me with many of his games from the late 1970's to mid-1990's some time back, and all his games from this event are included. He played White in the even-numbered rounds. He's playing Black in the photo, and it's probably his last round game against Gerard O'Connell.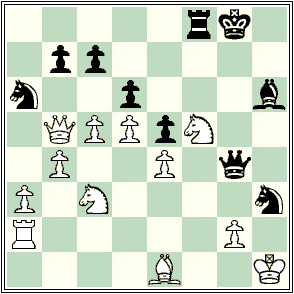 In a King's Indian, Jonathan's attack failed to materialise and he was well lost by the time the diagrammed position arose (after 31. Nf5).
[Click to replay the full game.]
Jonathan's other four games have also been added to the archive here: see the monthly index.
Does anyone have further information?