The renowned endgame study composer A. J. Roycroft was born in London in 1929. He's probably best known for his founding and long-time editing of EG, a long-running journal devoted to endgame studies; he also wrote the book Test tube chess: a comprehensive introduction to the endgame study (1972), among others.
It's not as widely known as it might be that he has a strong Irish connection. He was an undergraduate at Trinity College, Dublin from 1949 to 1953 (French and German Languages and Literature), and throughout those years he was an active player in the local chess scene. Only one game of his is given in the ICU games archive, though to make up for the sparsity it's a spectacular win against three-time Irish champion Dónal J. O'Sullivan, from the Armstrong Cup 1952-53.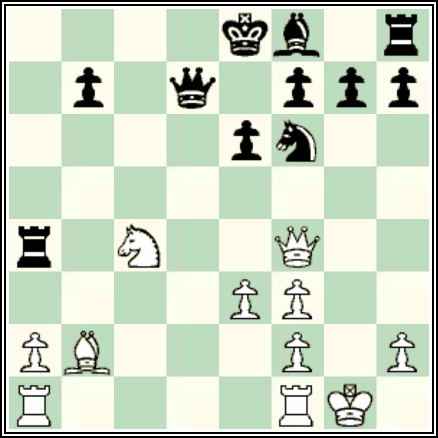 Here's one more game, versus J. J. Walsh in the Tormey Cup 1952 (source: J. J. Walsh scorebook). This time it's a loss: from the diagrammed position play continued 16… Be7, and then Roycroft snatched a pawn with 17. Qb8+ Qd8 18. Qxb7 but quickly ran into trouble.
[Click to replay the full game.]
A. J. ("John") Roycroft also has one other strong link to Ireland I wasn't aware of before I read his on-line bio: his father Benjamin Francis Roycroft, was born in Killarney in 1896.