The 1973 Easter Tournament was similar to previous ones, with a field as strong as any Irish Championship and played in plush surroundings with wooden boards and pieces on every table. Those were the days!
After three rounds, Hugh MacGrillen, two times previous winner, was on full points and heading for a third victory in a row. I also had full points, so we met in the fourth round on the top board. I had the white pieces and the following position arose in which I had an advantage with a piece versus three pawns.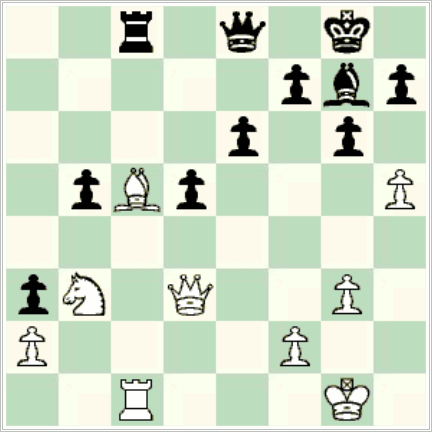 There followed 1…..gh:(?) 2. Qe2 Bb2 3. Qh5:! [played almost immediately] 3…. Bc1:? Hugh was misled by the speed of my reply and thinking that I had blundered, blundered himself. After 4. Qg4+ Kh8 5. Bd4+ e5 6. Be5:+ Qe5: 7. Qc8:+ Kg7 8. Qc1:, Hugh resigned in a visible state of shock. Komodo gives 3….f5 as an improvement but after 4. Qe8:+ Re8: 5. Rd1 followed by f4, White will have a big positional advantage.
In the following round I was demolished by Bernard Kernan, who went on to win the Tournament. I had to settle for a share of runners-up. Hugh MacGrillen on the other hand, possibly affected by this loss, failed to get into the placings.
Postscript: Hugh did not remain upset for too long because just a few months later he completely dominated and won the 1973 Irish Championships. The only serious opposition came from fellow-Northerner Paul Henry. Hugh has written that the three Northern-Irish players, John Moles, Paul Henry and himself had International Master potential. I absolutely agree and would add David Dunne to that select group. Bernard Kernan however, had grandmaster potential.