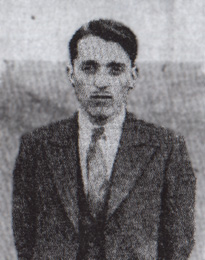 Thomas Cox, Irish champion in 1937 and 1938, and Leinster champion in 1936, '37 and '38, had what must be the most meteoric rise ever in Irish chess: he took up the game in 1933, at the age of 21, and in November that year was struggling even when receiving rook odds from fellow members of Dublin C.C. By 1936 he was Leinster champion and a member of an Armstrong Cup-winning team, and played a match for the title of Irish champion, losing 3½-1½ to the veteran and defending champion J.J. O'Hanlon. In the following two years he swept all before him, and missed by the narrowest margin winning the Irish championship in three consecutive years, when a last-round blunder in a winning position cost him the 1939 title. He was selected for the Olympiad in Buenos Aires in 1939 but was unable to participate due to illness.
For he was indeed extremely ill, and had been so throughout his chess career, and he died on 7th October 1939, aged 27. The cause, 'a long and tedious illness', as his Irish Times obituary put it, was tuberculosis.
His birthdate has been unknown up to now: Gaige simply gives 'c1912′. But there is new information. The Irish Times of 11th October 1939 listed his family members at his funeral: 'The Misses Alicia, Lilly and Maureen Cox (sisters); Mr. Sean Cox (brother); Mr. and Mrs. J. Carabini (uncle and aunt); Mr. and Mrs. J. Balbirnie; Mr. R. Balbirnie, Miss E. Coleman and Mr. J. Pender (relatives)'.
Carabini being a relatively unusual name in Dublin, a search was indicated. And there was a direct hit!
Subject: Carabini name

Posted by:Sean O'Reilly on Wed, 15 Jul 2009

I'm trying to establish my connection to the name of Carabini from Dublin in early 1900′s. Joe and Ginny Carabini took care of my mother Maureen Cox when her parents died and lived just off Grand Canal Street in Dublin. I would to hear from anyone who might have some information as to their origins

Subject: Brigid Carabini
Posted by:sean oreilly on Thu, 13 Aug 2009, in response to Carabini name, posted by Sean O'Reilly on Wed, 15 Jul 2009

I've just discovered my Grandmother was called Brigid Carabini who live on Cuffe Street, Dublin. Would anybody have any information as regards that family. Her husbands name was Cox who I think originated in Bray. They had four children Margaret, Alicia, Lilly and Sean. All of them with the exception of my mother Margaret emigrated to Birmingham England in the fifties.
The posts were on a genealogy forum, http://www.genealogyforum.rootsweb.com/messages/genbbs.cgi/Irish. So barring an extraordinary coincidence, this must be the same family.
On writing to him, Seán O'Reilly confirmed that he is indeed Thomas Cox's nephew. Thomas Cox was born in Cuffe St., Dublin, on July 5th 1912, 100 years ago today.
Over the next few months, we'll provide more information of Cox's games and career. For this post, here's one game that doesn't appear in the ICU games archive or in Big Database 2012. It's from a minor section (in which he finished first) of the great Nottingham Congress in 1936, and was given by J.J. Walsh in an Irish Times article of 29th May 1958, "How good was Cox?"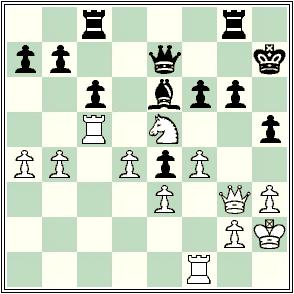 Thomas Cox – Mitchell
Nottingham Congress 1936 (class I tournament)
In the diagrammed position Black has just played 27. … f6. The continuation was 28. Nxg6!? Rxg6 29. Rxh5+ Rh6 30. Rxh6+ Kxh6 31. f5 Bf7 32. Rf4 Bh5 33. Rh4 Qe8 34. Qf4+ Kg7 35. g4 and 'Black was obliged to resign in another 11 moves'.
J.J. Walsh's suggestion of 29. … Kg7 30. Qh4 Qd6 still leaves White better or winning after 31. Rh7+ Kf8 32. Rxb7, but 30….. Bg8 is unclear/equal, so objectively White should continue 28. Qh4 from the diagrammed position, with advantage.