Rory Quinn won last year's Waterford Open in style, with 6/6, retaining his title from the year before. I asked him for his games for the archive, and he very kindly sent them. Alas! I ran into all sorts of time constraints (as so often happens) and have only now managed to get around to processing them.
The first-round game against Gerry Casey isn't available, but all the others are now in the archive:
Rory Quinn-Nick Larter (round 2)
Orison Carlile-Rory Quinn (round 3)
Rory Quinn-D.J. O'Donoghue (round 4)
John Joyce-Rory Quinn (round 5)
Paul Kiely-Rory Quinn (round 6).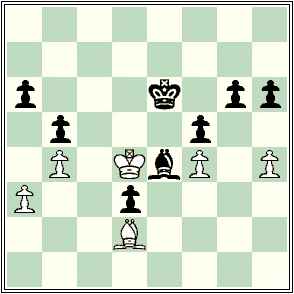 Here's a critical stage in the last round game, where Paul Kiely (White) lost a pawn early on and has been hanging on ever since, giving up a second pawn to convert to this opposite-coloured bishops ending.
At this stage White embarked on an extended king tour, going via b6 to d8 (attacking the bishop, which was on e8). This allowed Rory to win with a timely … g5! break. Instead from the diagrammed position it seems White should be fine if he just sits tight: I can't see how Black makes any progress.
We don't have very much information here on the Waterford events. I played in one myself many years ago (1979?); has it run as a continuous series ever since?