Two posts back I said that we were in a lull at the senior level. It seems I spoke too soon, as this month several enterprising players have had a busy tournament schedule outside Ireland. 79 games are available, including:
Andrew Philip Smith at the British Championship
Matthew Dignam and Anthony Bourached at the British Championship Major Open–won by Matthew Dignam
James McDonnell in the British Championship 1st and 2nd Week AM Opens
Pete Morriss in the British Senior Championship
Alexander Baburin and Sam Collins in the 3rd Riga Technical University Open
Alexander Baburin in the 24th Porto Giorgio Open
Conor O'Donnell and Paul Wallace in the e2e4 Coventry Open
Paddy Divilly in the e2e4 Coventry U1950.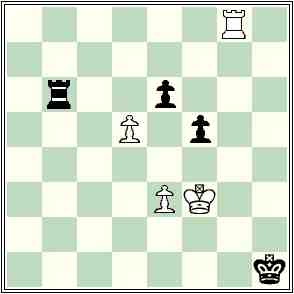 Here's a game with a dramatic end: James McDonnell is Black against Clive Hill, the eventual tournament winner, in the first round of the 2nd Week British Championship AM Open. White has just played 53. d5.
(a) how should Black continue, and what should the result be with best play?
(b) what move should Black avoid above all else, and why?
See the game for a solution to question (b)!
Update, 2 November 2013: Clive Hill corrects the record (see comments): the white rook should stand on g6 rather than g8. This version indeed makes more sense, and it seems Black was dead lost. The archives now show the corrected version.