Dick Grogan, who died earlier this month, was a nationally prominent journalist. Most of his career was spent with the Irish Times, where among other assignments he served as Northern Editor.
His Irish Times obituary is subtitled "Journalist whose career was bookended by Bloody Sunday": he was an eyewitness in Derry on that day and his article "Soldiers kill 13 in Bogside" appeared on the front page of the Irish Times the following day; at the end of his career he testified before the Saville Inquiry.
His name was very familiar to me, but I had no idea that he was a chessplayer until I read it in his obituary. As a 17-year-old he played as first on the Irish team in the Moscow Olympiad, scoring +1 =7 -4 on boards 3 and 4. He later played on the first U.C.D. team to win an Armstrong Cup, in 1958-59, and on the Collegians team that won the Armstrong at its first attempt in 1963-64. He was also Irish U19 champion in 1954.
The ICU games archive gives only his games from the Moscow Olympiad, under a bare "R. Grogan" (the otherwise excellent OlimpBase report gives him as "Robert Grogan"). Here is another game.
He was runner-up in the Hastings Premier Reserve 'E' event in 1955-56. Reporting on the event, J.J. Walsh commented that

"Richard Grogan gained his success at Hastings by playing solid rather than spectacular chess, and he was content to wait for his opponent's errors instead of making the running himself. The following is a typical example of his style and skill."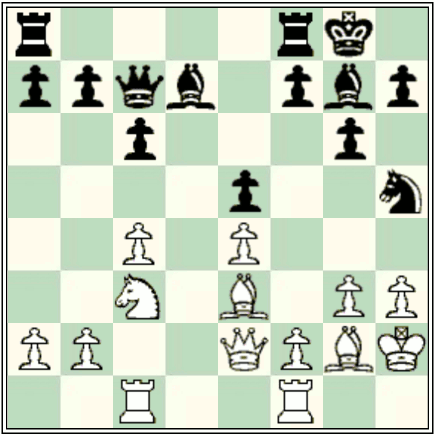 S. H. Brocklesbury – Richard Grogan
Hastings Premier Reserves 'E' 1955-56 (7)
1. Nf3 Nf6 2. c4 g6 3. g3 Bg7 4. Bg2 O-O 5. Nc3 d6 6. d4 Nbd7 7. O-O c6 8. e4 e5 9. dxe5 dxe5 10. Qe2 Qc7 11. h3 Nc5 12. Ng5 Nh5 13. Be3 Ne6 14. Nxe6 Bxe6 15. Rac1 Bd7 16. Kh2 (diagram)
16. … Nf4! 17. Qd2 Nxg2 18. Kxg2 Rad8 19. Qe2 b6 20. Rcd1 Be6 21. b3 f5 22. f4 Qc8 23. Rxd8 Rxd8 24. exf5 Bxf5 25. g4 Bd3 26. Qf2 Bxf1+ 27. Kxf1 exf4 28. Bd2 Qd7 29. Be1 Qd3+ 0-1
[Click to replay the full game.]