Andor Lilienthal died last year at the age of 99. At the time Chessbase published this fine tribute to him. Featured in that article is Lilienthal's famous queen sacrifice victory over Capablanca, played at Hastings on the 1st January 1935. Coincidentally earlier the same day the Irish Independent had reported that:
"The Irish Chess Union, through their representatives at the Hastings Tournament, have engaged the services of the world-famous young Hungarian master, A. Lilienthal, to give exhibitions in Dublin next week."
On the evening of the 7th January Lilienthal paid an informal visit to the Dublin Chess Club where he engaged in lightning, blindfold, simultaneous and consultation play. However the major public exhibition was held the following night at Regent House, Trinity College where he encountered 45 players simultaneously. At the end of the evening Lilienthal had won 28, drawn 10 and lost 7. The first player to beat the simul-giver on the night was the Cork player Barry St John Galvin, one of Munster's best players.
Lilienthal, Andor – Galvin, Barry St John
Simultaneous display, Dublin 1935 [D90]
[Source: Irish Independent, 9th January 1935]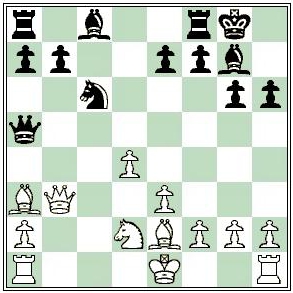 Galvin made an enterprising piece sacrifice on his 13th move and Lilienthal soon went spectacularly wrong. Lilienthal could have safely resigned when queens were forced off on the 21st move, but perhaps he wanted to get a few wins of his own first. He later praised his opponent's forcing tactics.
1.d4 Nf6 2.c4 g6 3.Nc3 d5 4.Nf3 Bg7 5.e3 0-0 6.cxd5 Nxd5 7.Qb3 Nxc3 8.bxc3 c5 9.Bc4 h6 10.Ba3 Nc6 11.Be2 cxd4 12.cxd4 Qa5+ 13.Nd2 (diagram) 13…Bxd4 14.exd4 Nxd4 15.Qc4 Nxe2 16.Bb4 Qe5 17.Kd1 Qxa1+ 18.Kxe2 Qxh1 19.Qh4 Qxg2 20.Bxe7 Qg4+ 21.Qxg4 Bxg4+ 22.Kd3 Rfe8 23.Bc5 Rac8 24.Be3 Red8+ 25.Ke4 g5 26.h4 f5+ 27.Ke5 f4 28.Bd4 Rxd4 29.Kxd4 Rd8+ 30.Kc3 Rxd2 31.Kxd2 gxh4 0-1 [Click to replay]