Following up on the last two posts (blogging being a stream-of-consciousness matter), two of the unlucky almost-winners of the Irish championship had the consolation of winning the Irish correspondence championship.
W. J. Allen was chess editor of the Belfast News-Letter from 1911 to 1956. Around the time he missed out in the playoff for the 1926 Irish championship, he was embarking on an extended winning run of 6 Irish correspondence championships out of 7: 1926, 1927, 1928, 1929, 1930, and 1932.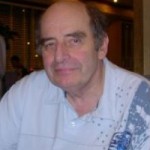 After missing out on tie-break in the Irish championship in 1962, Alex Montwill was joint winner of the Irish correspondence championship in 1963. Although he seems to have given up chess a long time ago, we do have a recent photo (see right), based on a new book that came out last month: The Quantum Adventure: Does God Play Dice?.
There have also been three players who have won both the over-the-board and correspondence titles: John B. Reid, Tony Doyle, and A.T. Ludgate. There is an on-line correspondence roll of honour that is almost complete. (A complete list is in Correspondence Chess in Britain and Ireland, 1824-1987, by the 1996 Irish correspondence champion, Tim Harding.)