J.J. Walsh brought the news of the recent death of Conor Barrington. There was a notice in the Irish Times (3rd-4th October 2011): Conor Barrington (Mount Tallant Avenue, Dublin), formerly of the Department of Foreign Affairs and Trade, d. 1st October 2011, Rathfarnham.
He played quite a bit in Ireland in the 1970's, finishing equal second in the 1975 Leinster championship. We both played in the 1979 Irish championship, finishing with similar scores, but I don't recall if I ever played him. I have only sketchy details thereafter, but if I understand correctly his career in the Department of Foreign Affairs took him overseas after 1979 or so, to Chicago and later Saudi Arabia. He was in Ireland in 1989 and was on the Rathmines team that won the Armstrong Cup and the National Club Championship, and for good measure he was joint winner of the Rathmines club championship.
There are only two games of his in the ICU archive, both losses from that 1979 Irish championship, and only the same two are in Big Database 2012. He was also on the Irish team for the 1974 World Student (U26) Team Championship in Teesside, England, as 2nd reserve. As mentioned elsewhere, these Student Olympiads were tough events, and he struggled with an overall score of +1 =1 -5. OlimpBase has all these games, so here is his win, against Douglas Tudhope (Scotland):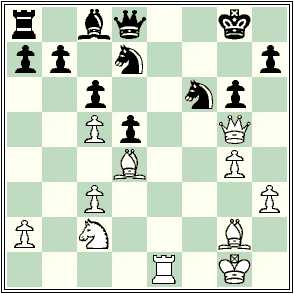 Conor Barrington – Douglas Tudhope
World Student Team Ch, Teesside 1974 [final-B, round 8]
Ireland-Scotland, board 4
Here's the position after Barrington's 24. Qg5. The finish was 24. … Qf8 25. Rf1 Kg7 26. Qe3 h6 27. h4 Kh7 28. g5 Ng4 29. Qe2 Qg8 30. Qe7+ 1-0.
[Click to replay the full game.]
Any other games (especially any other wins) would be great. Can anyone supply any?