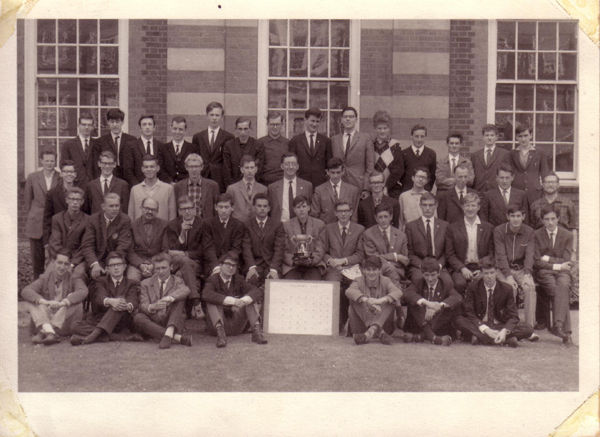 Here is a photograph of the players at the 1964 Glorney Cup, played in London.
A warmup question: can you identify the three very well known English players who are in the third row from front, seventh from right; second row from the front (seated), fifth from left; and second row from the front, seventh from left (holding the trophy)? See a larger image before giving up: they're really quite recognizable.
This photo is from Alan McGowan's excellent page on Scottish Teams in the Glorney Cup over on the Chess Scotland pages; he credits John Glendinning of the Scottish team, the leftmost player in the back row. (And it's shown here with Alan's permission, for which thanks.)
An account of the event, including final crosstable, can be found over on OlimpBase's pages on the Glorney Cup (information largely assembled by David McAlister). It was the first Glorney Cup to include France and The Netherlands, and was a very competitive one, with one point separating the top three teams.
The Irish team that year was Kevin Ryan, John Moles, Ray Byrne, Ray (Raphael) Farina, J. Lacy, Gerard McAleavy, Solomon Negrine and Gerald McCurdy. (Again from David McAlister's records.)
And now here's the main question, not an easy one: how many of them can you identify?