It has been an unusually eventful couple of weeks in Irish chess, with one of the closest (relegation) finishes ever in the Armstrong Cup on Sunday last, and the second e2e4 Dublin Masters beginning today.
More on those items later as more information rolls in. In the meantime, this week also had very welcome and unexpected news with the return of DisinformatorTM after an extended break. This, the club magazine of Oxford City C.C., has been edited for years by Seán Terry, formerly of Dublin C.C., and was previously discussed here. Highly recommended!
I haven't had a chance to go through the latest issue yet, but the Irish games from Disinformator 41 have been added to the archive: 20 games of Seán Terry's, and 6 more involving Rod Nixon.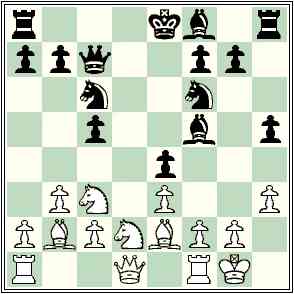 Here is one excerpt from these games, from the feature "Blunder and/or Brilliancy?", from the game Brown-Terry, Chiltern League Div. 1 2010-11. Play continued 11. … Ng4!? 12. hxg4 hxg4 13. g3. Blunder and/or brilliancy?
Once you've answered that, a second question based on the game continuation. What is the verdict with best play after Black's 18th?
Answers in a few days.