Today (20th October) marks the 125th anniversary of the first ever Armstrong Cup match.
The cup was donated by William Armstrong B.L. as a challenge cup "for annual competition by the chess clubs of Dublin". Its first season was 1888-89, and six teams entered: the Phoenix, City, Kingstown, Dawson Street, Dublin University, and National C.C.s. Matches were over six boards, each team was to play each of the others twice, and only overall match results counted. The competition resulted in a resounding victory for the Phoenix with 9 match points out of 10, well ahead of City and Kingstown, each with 6½ (though Kingstown had two unplayed matches). The picture below, taken from Elm Mount's website, shows the full inscription with the names of the first winners inscribed at the top.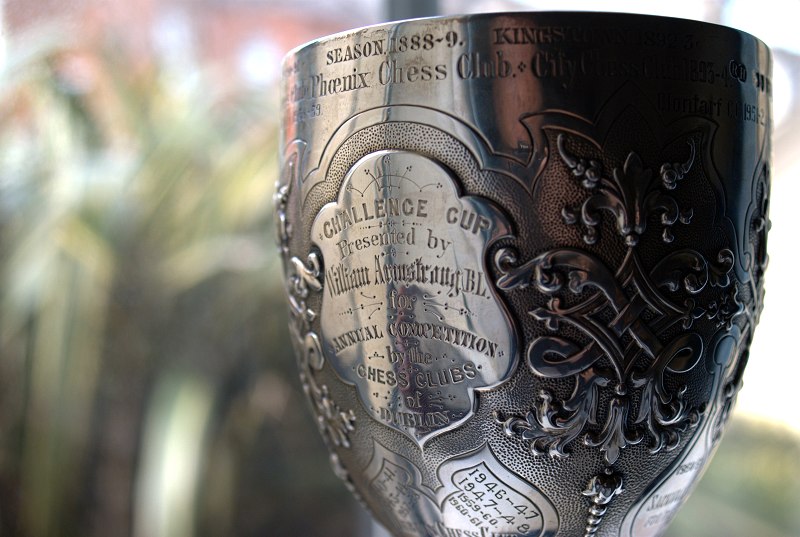 We're fortunate to have an account of the first Armstrong match, Phoenix v. City, played at 79 Grafton Street on October 20th, 1888. Today that's the address of Bewley's, but in 1888 it seems to have been the site of "John Morphy's Chess Divan". A report appeared the following Monday in The Freeman's Journal, which David McAlister has provided, from which we have the full scorecard:
| | | |
| --- | --- | --- |
| Phoenix | | City |
| G. D. Soffe | 0 – 1 | P. Rynd |
| J. Morphy | 1 – 0 | P. Murray |
| F. Hobson | 1 – 0 | P. Dunscombe |
| D. O'C. Miley | 1 – 0 | M. J. Prentice |
| W. Nicholls | ½ – ½ | J. Young |
| T. M. Kenny | 0 – 1 | W. Walsh |
| | 3½ – 2½ | |
We even have the game from board 1 between J. A. "Porterfield" Rynd, Irish champion 1865-1886 and 1892-1913 (based on the 1865 and 1892 championships) for City, and George D. Soffe, Irish champion 1889-1892 (based on the 1889 championship) for the Phoenix.
To mark the occasion, a new Armstrong Cup page has been added here. David McAlister has managed to reconstruct the entire Roll of Honour, available at his Irish Chess History site. The page here will add details of players and matches; gradually of course, as there's a huge amount of information.
Finally, at the beginning of last season there was an extended debate on the late (much-missed) LCU Chess Cogitations blog about the trend for teams to switch to holding home matches on Saturdays, which many felt was a departure from tradition. It's therefore interesting to note that the 20th of October 1888 fell on … a Saturday!