Among the events around last year's Irish championship in Limerick was the Irish Women's Championship 2013. Over the years this event has been held on a very sporadic basis, but recently there seems to be a significant effort to promote it. In 2010 April Cronin won the first championship in decades (though bizarrely the event isn't listed on the ICU web site) and in 2012 Karina Kruk won in Kilkenny.
The latest event was a 6-player all-play-all, and (for the first time?) games were available from live boards, and are given in the report, now posted on the Tournaments page here. Incidentally the games don't appear in the ICU games archive.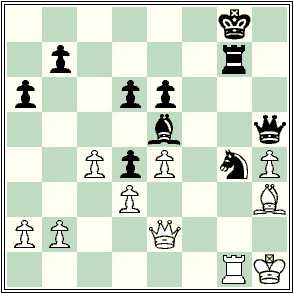 The new champion is Diana Mirza after a surprisingly competitive event. The second round featured a surprise that could have been a shock, when the winner dropped half a point against Clare McCarrick of Longford Juniors. In the diagrammed position, McCarrick, as Black, had a clear win with 37. … Nf6, when she emerges a piece up. Instead she played the natural-looking 37. … Qxh4? and was caught by surprise by the resourceful 38. Qxg4!=. McCarrick was not listed in the ICU rating list before the event, but the one after shows her conceding over 750 rating points (1650 vs. 897); it must have been an interesting atmosphere during the game!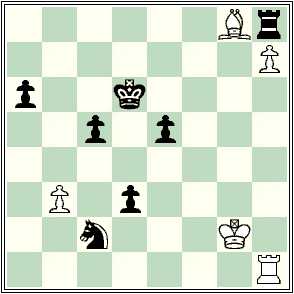 The championship came down to the final round game between Gearóidín Uí Laighleis and Mirza, with Mirza half a point behind and needing to win with the black pieces. She won a pawn and seemed to be heading to a smooth win, but unaccountably allowed her opponent to develop a dangerous passed pawn. In the diagrammed position White, to play, had 65. Kf3, when the d-pawn will drop, with surely at least a draw. Instead after 65. Kf2? e4 the passed pawns became too dangerous.