The ICU web site has a recent post discussing the history of Dublin C.C.. The major work on this is of course the outstanding history compiled by Dr. A. A. Luce around 1967, at the time of the club's centenary. This is now available on the Dublin C.C. web site, and is highly recommended if you haven't seen it before.
I wasn't aware until I saw the ICU post, though, that there is an additional document on Dublin C.C.'s site, covering the club history from 1967 to the present day, compiled by Denis Dempsey, very much in the same style as Dr. Luce's booklet and also highly recommended.
One of the players mentioned in the update is Gerry O'Nolan, a member of the club from (approximately) 1934 to his death in 1984. Though the update doesn't mention it, I understand he was a brother of Brian O'Nolan, a.k.a. Myles na gCopaleen, a.k.a. Flann O'Brien, the celebrated journalist/author.
The ICU games archive has none of his games, and I have never seen any anywhere else either. However we can now rectify this gap with two games, both of which featured O'Nolan with the Black pieces against J. J. Walsh. Both games are from a scorebook of 100 of J. J. Walsh's games from 1949 to 1961, which J. J. has kindly lent me.
In Walsh-O'Nolan, Club tournament 1951, Black dropped a pawn early in the opening and White had no difficulties converting. (It's not clear which club this was. J. J. switched from Eogahn Ruadh to Clontarf in 1951, and did not join Dublin until 1957.)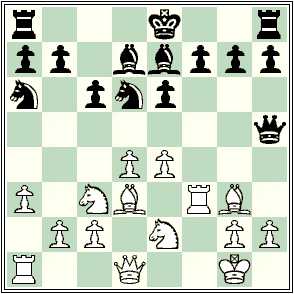 The second game is from the 1954 Leinster championship, the first of two occasions on which J. J. won the championship. In round 5, a Trompowsky led to the diagrammed position with Black to move. J. J.'s notes point out that 13 … 0-0 loses quickly to 14. Bxd6 Bxd6 15. e5 Be7 16. Rh3, while 13. … 0-0-0 is met by 14. b4 with an attack. In the game, O'Nolan tried 13. … g5, but after 14. Bxd6 Bxd6 15. e5 Be7 16. Rh3 Qg4 17. Rh6 with h3 to follow, the black queen had to be given up.
Does anyone know of any other games of Gerry O'Nolan, and in particular any wins?