On a cold dark early-February night in 1981 sometime around midnight I was leaving the Drumsill House Hotel in Armagh after playing a game of chess. As I was walking through the hotel car park I saw in the distance a solitary figure at the back of a car, valiantly trying to push it. Like the good Samaritan, I went over to help and when I reached the rear of the vehicle I realised that the person I was assisting was my opponent from earlier in the evening – none other than World Championship challenger Viktor Korchnoi, though he had been playing 39 other people at the same time.
I had just time to say to him that this might be an unexpected end to his evening and for him in reply to give a little grin and a shrug of the shoulder before, with the assistance of a couple of other pushers, the car sparked into life, Korchnoi jumped into the front passenger's seat and sped away into the night.
In the post-Fischer years Korchnoi was perhaps the most talked-about chess player on the planet. He had defected from the Soviet Union in 1976 and had fought an acrimonious and controversial World Championship match in 1978 with the golden boy of Soviet chess, Anatoly Karpov. Even five years after leaving the Soviet Union, Korchnoi was still facing the consequences of his defection and used his visit to Ireland to publicise the plight of his family still living in the Soviet Union. The Irish Independent reported that "Since June 1977 wife and son have been trying to get out of the Soviet Union, but without success. Their applications for visas had been consistently rejected" while the Irish Times referred to Korchnoi telling journalists "that he believed his 21-year-old son Igor, who was arrested in 1979 by Soviet police, was now in a Siberian labour camp. He believes that Igor's only crime is being his father's son."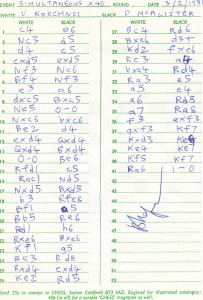 Korchnoi played three exhibitions in Ireland – in Armagh, Newtownards and Dublin, the original impetus having come from the Armagh Chess Club. Just how much of a draw he was at that time can be seen from the suggestion in the Irish Times that he was reputed to be receiving £1,000 for his Dublin appearance. No wonder all three exhibitions were sponsored. There were large audiences at all of them, with 300 reported to be at the Dublin exhibition with "Irish champion, Paul Delaney, entertaining  a large overflow audience by explaining the moves of some leading games on close circuit television in the analysis room." (Irish Times). Korchnoi was scheduled to play precisely 100 games on his tour but 2 extra games were apparently fitted into the Newtownards simul. Overall Korchnoi won 87, drew 10 and lost 5. Further details are posted on the Simuls page.
Update, 10 September 2012: click to replay the full game.