Returning to J. J. Walsh's unpublished manuscript of selected Irish games, the next on the list is another win by P. A. (Paddy) Duignan, this time against P. Diskin in the 1949 Irish championship in Galway, winning the tournament brilliancy prize.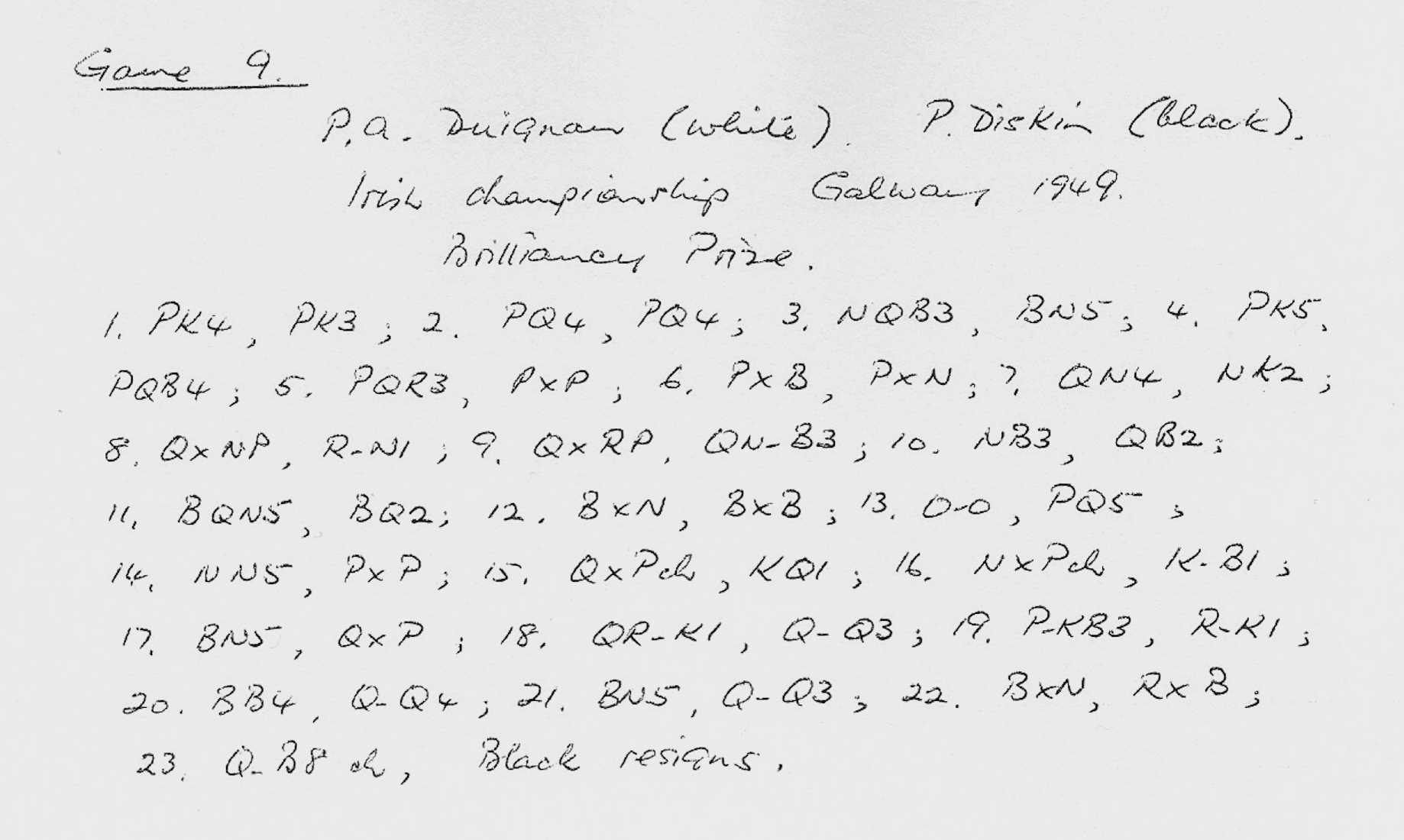 P. Diskin of Galway was Connacht champion in 1950, 1951, 1954 and 1955, and his best result in an Irish championship was =5th in Cork 1951 (sources: the Connacht championships and Irish championship pages on David McAlister's Irish Chess History website).
The 1949 championship in Galway was a 7-round, 16-player Swiss that resulted in a runaway 7/7 victory by 20-year-old P. B. (Paddy) Kennedy, 2½ points ahead of the field, for his only Irish championship win. It seems only the top 7 finishers are known, the others being 2nd-4th. Warwick Nash, George J. Boyd and Dónal J. O'Sullivan 4½; 5th-7th. John C. Hickey, J. J. O'Hanlon and R. Dundas 4. So no mention of either Duignan or Diskin. The game isn't in the ICU games archive, which has all of Kennedy's games but no others.
The game itself (click for playable version) featured a variation of the Winawer, 5. … cxd4?!, that even in 1949 was under a cloud, and 7. … Ne7? (instead of 7. … cxb2 or 7. … Kf8) further compounds Black's problems. White misses the strongest continuation, 11. Ra3! with a clear advantage, and a complicated battle ensues.