The Bunratty Festival, now up to the 20th in the series, goes from strength to strength. This year's event had not only the usual very strong Masters, an event that has been described as a 'ridiculously strong weekender', but also for the first time an all-play-all event offering the opportunity of GM and IM norms. Gerry Graham's report is available on the ICU web site.
The Classic featured some very interesting chess but unfortunately no norms. Very unfortunately indeed, in fact. Colm Daly needed 4½/9 for an IM norm (average opponent rating 2460 5/9, rounded up to 2461, and the rest given by Tables 1.49a in the FIDE Handbook). Going into the last round he needed a win with Black against Sam Collins, a tall order.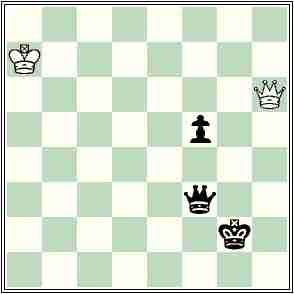 But after many twists and turns he managed to get to a queen ending that the Nalimov tablebases confirmed was winning. At that point I had to pack up to head to the airport for a trip to Shanghai. Given the disappointment I felt later on seeing the result, I can only imagine how galling it was for Colm. After 39 moves with no progress, Colm gave it up as a draw. Even the final position, at right, is a win if the 50-move rule can be avoided.