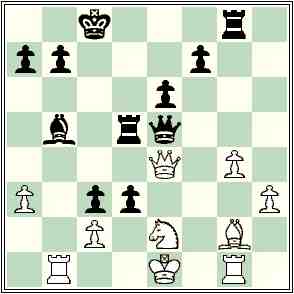 The sixth issue of The New Winawer Report has been posted: see the tnwr page. This issue considers the late Robert Byrne's idea of 12. h3 and 13. g4. This is still a dangerous idea and it seems surprisingly under-utilised, especially as theory's main recommendation for Black for many years has now proven to be unsound.
This issue considers the theory of that historical theoretical line, via the game Watkins-Coffey, World Cadet (U17) Championship, Le Havre 1980 (which is not in any of the databases, by the way). Up to the diagrammed position, reached after Black's 22nd, we had been following the classic game R. Byrne-Uhlmann, Monte Carlo 1968, and it seems to be the only game since then that has followed it this far: at least, if there are any others, they don't appear in the databases either.
Note: There are some references that I have been unable to locate, and any help would be appreciated. First, Moles (p. 33) refers to Byrne originally trying this idea during blitz play. Are there any references for this? (Byrne doesn't mention it in his annotation of his game in Chess Life.) Secondly, after the alternative 18. Qg3, Moles (p. 34) attributes 18. … Be4 to Larsen. Does anyone know where this reference comes from?