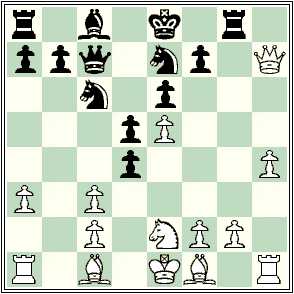 The latest issue of The New Winawer Report has been posted on the Winawer page. This deals with a side line in the Poisoned Pawn, which was the subject of new analysis in Emanuel Berg's new volume on the 7 Qg4 Winawer: White plays 11 h4!? instead of the virtually universal 11 f4 in the main line Poisoned Pawn.
Though Berg's analysis is excellent, he misses the background and the original game in this line. The idea is due to the London player and author Len M. Pickett, later recommended by Andrew Martin, and the original game appeared in CHESS in November 1975. It's not too surprising that Berg missed it, as it appears in no modern database (and, to be fair, was played well before Berg was born).
Berg gives an effective antidote to Pickett's original idea of 11 h4 and 12 Rh3. But for reasons discussed in this month's issue, the move order 11 h4 and 12 f4 brings some benefits to White.