The Armstrong Cup has received excellent coverage in the papers down the years, and for many seasons we even have most match scorecards. However actual games from long-ago seasons are still quite rare and so it's difficult to judge the standard and the style of play.
Archives for the Evening Herald up to 1949 have recently been made available on-line, and there is much new material. Many of the games given are from Irish Correspondence Championships, but there's the occasional over-the-board game, as well as pictures of players and biographical summaries.
In 1933-34, four teams entered: Dublin (holders), Sackville, Blackrock, and Colmcille. Matches were over eight boards, each team played each other home and away, and only match results counted. Dublin won again, by a wide margin.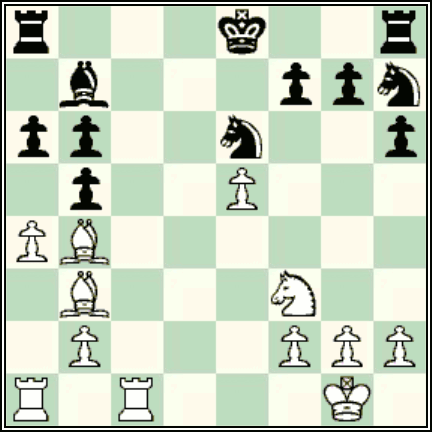 The diagram at right is from a Colmcille v. Blackrock match. White was Nicholas McCluskey, c. 1873-1956; Black was M. O'Nolan, very probably one of the brothers of Brian O'Nolan, a.k.a. Flann O'Brien, a.k.a. Myles na gCopaleen [but see following post (August 23, 2016)]. This was one of the few matches that season for which a scorecard does not seem to be available, unfortunately, but both players played for middle boards, somewhere between 3 and 6.
Black got into severe difficulties in the opening and had ongoing problems achieving any reasonable development and coordination. In the diagram White has just played 19. a4 and there followed 19. … bxa4? (but Black was probably lost anyway) 20. Bxa4+ b5 21. Bxb5+ axb5 22. Rxa8+ Bxa8 23. Rc8+ and 24. Rxa8 and White soon won.
[Click to replay the full game.]
[Update, August 21, 2016: The Evening Herald articles gave this as 'played in an Armstrong Cup match', without specifying that it was from the ongoing season. I've now found references to both Colmcille-Blackrock matches from 1933-34, and neither lists McCluskey as a winner. But he did win versus M. O'Nolan the previous season. It's most likely that the game is from that match. I have updated this post and the playable game accordingly.]